AWKWARD GUESTS is a one-of-a-kind deduction game with infinite replayability, based on the innovative Brilliant Deck System! Will you solve Mr. Walton's murderer?
Watch its review by Tom Vasel on The Dice Tower
Would you like to become an #investiGUESTor?
If you want to receive the latest news of the AWKWARD GUESTS™ and their Kickstarter campaign, suscribe to MEGACORPIN GAMES Newsletter or follow their social networks and you will be up to date about how and when you will be able to join the investigation.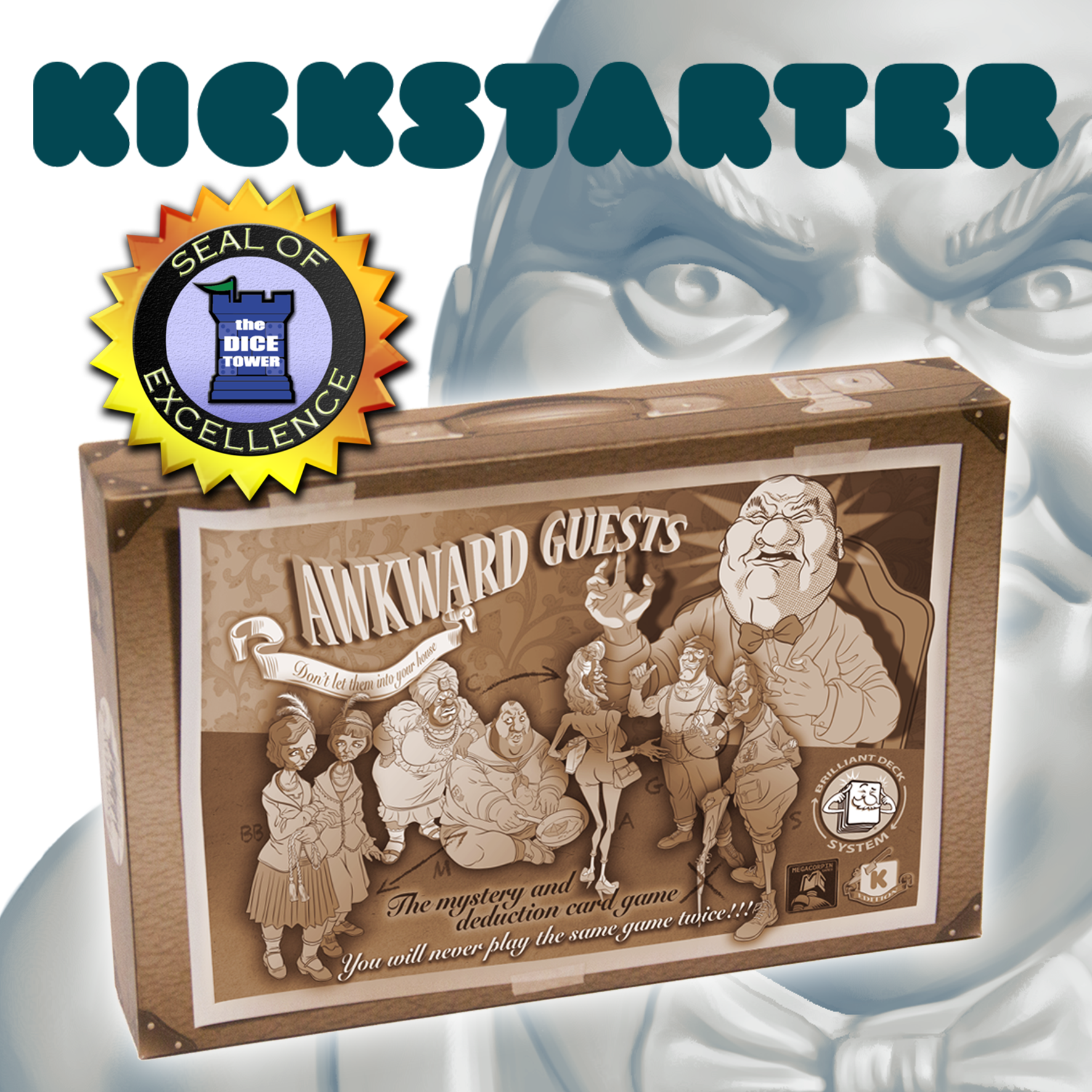 JOIN THE INVESTIGATION!
Do you want to know more about AWKWARD GUESTS™? Keep on reading
The Game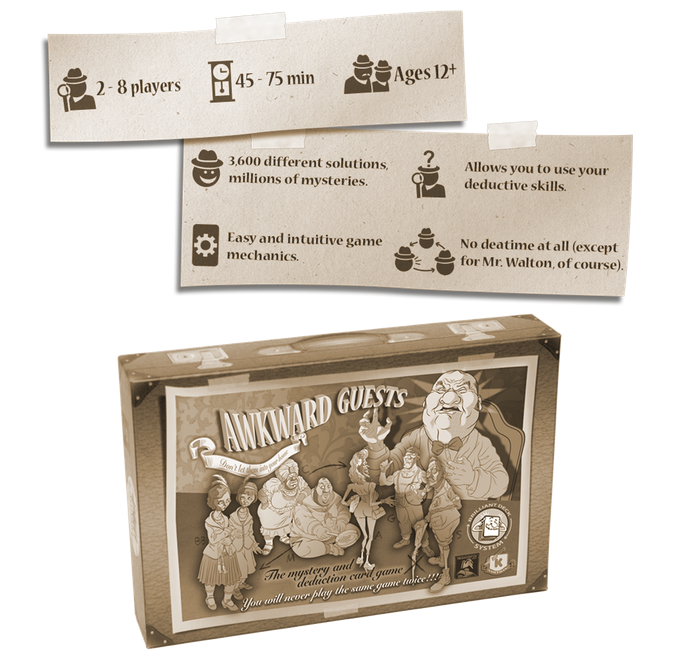 Why is AWKWARD GUESTS different?
Each card in AWKWARD GUESTS contains a piece of information that could help you solve Mr. Walton's murder. These are statements from the suspects, alibis, police reports, forensic findings and much more.

The game setup is what makes AWKWARD GUESTS unlike any other game. Each game uses a different predefined set of cards from the box. Therefore, none of the players have access to the case details before the game begins. Everyone is an investigator! No need for a moderator!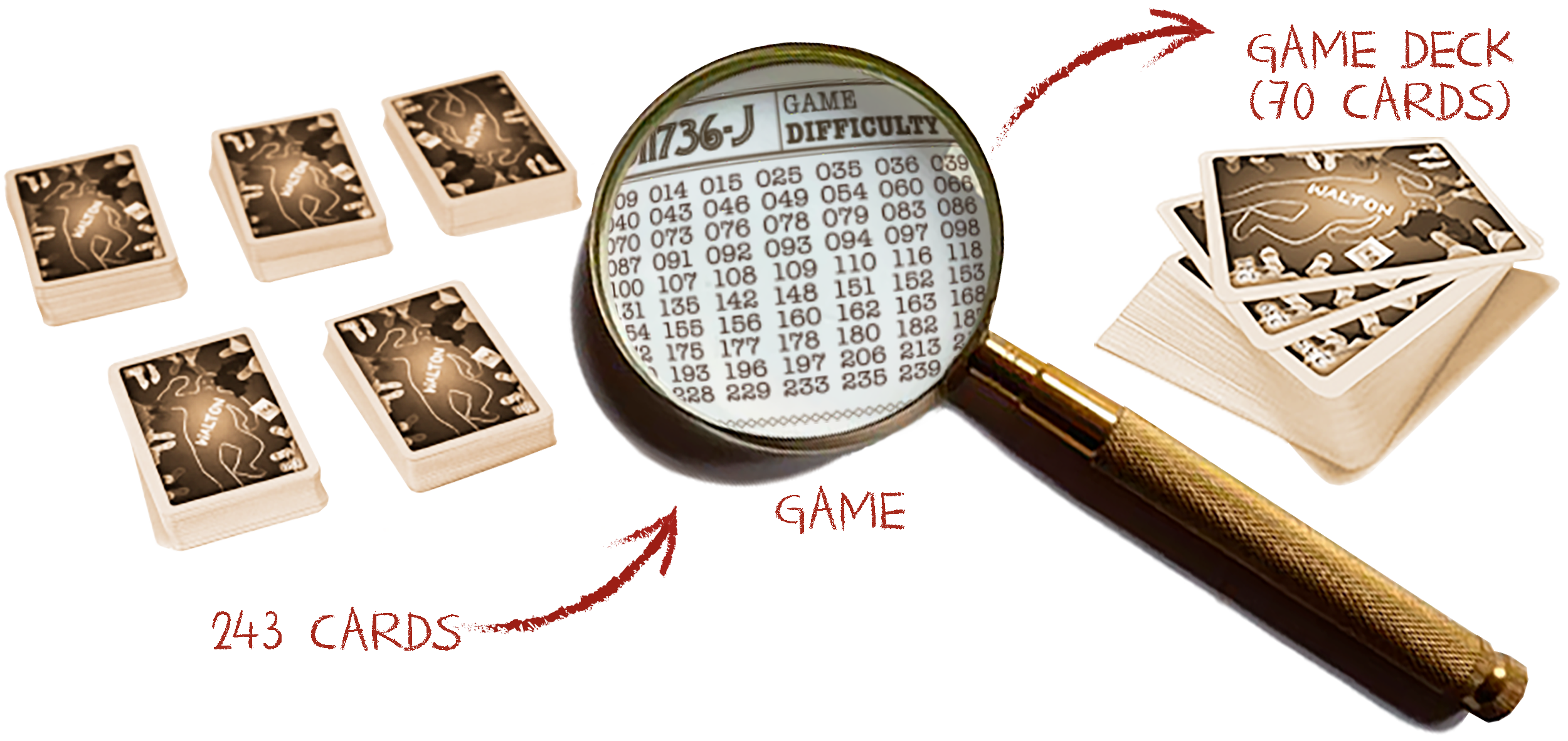 Because of this setup method, every single card of the generated game deck provides information that is coherent with each other. The information contained in each predefined game deck accounts for one unique mystery with one unique solution.
For example: the setup ensures that all cards regarding an innocent suspect dismiss all his/her motives for killing Mr. Walton.
This setup system created by Megacorpin Games is the Brilliant Deck System.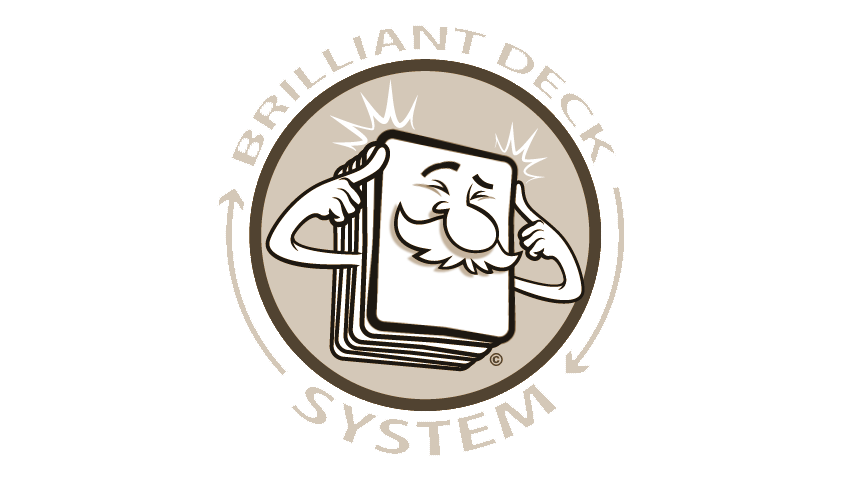 Consequently, to discover the murderer, their motive and the crime weapon, crossing out options and making a guess is not enough. You will have to draw conclusions based on the information provided by the cards received throughout the game.
Another example: you may determine a suspect's innocence once the police has dismissed all his/her motives, once you deduce that they couldn't reach the crime scene and/or weapon…i>
Our Brilliant Deck System has another main feature: it provides the game with infinite replayability. AWKWARD GUESTS offers a possible total of 3,600 different murder case solutions, each of which may be reached through thousands of different card combinations; This means that millions of different game decks can be generated.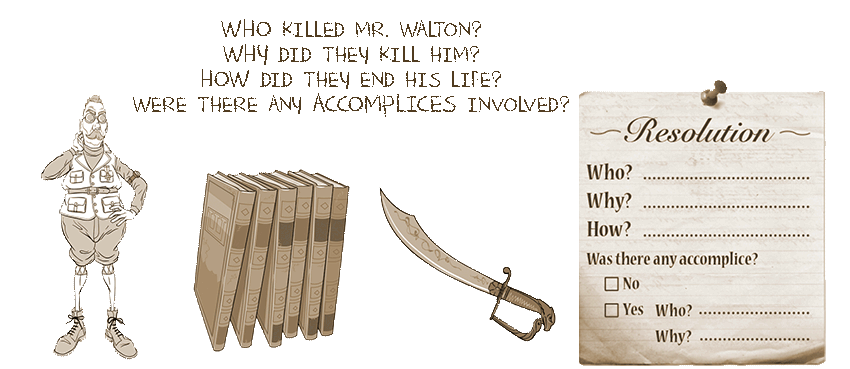 In addition, AWKWARD GUESTS' mysteries are classified into six levels of difficulty on a scale from "Beginner" to "Very hard".
For example, the following solution...
Who: Angelica Albinson
Why: Extreme principles
How: Pesticide

...could be the answer to both a "Beginner"-level mystery and also to a "Very hard" one: Although both mysteries share the same answer, their game decks are made up of different cards which provide different clues, this is what makes the "Beginner" level game easier to solve.

How many mysteries are included in AWKWARD GUESTS?
AWKWARD GUESTS' rulebook includes a selection of 30 mysteries arranged in several different difficulty levels. More mysteries are periodically made available on this website (over here) for you to download without any additional cost.
You won't ever run out of mysteries to solve!
Is it difficult to play AWKWARD GUESTS?
It isn't at all! AWKWARD GUESTS doesn't require the use complex logic. The detective reasoning used is simple, intuitive and easy to understand for everyone.
Once again, let's see an example: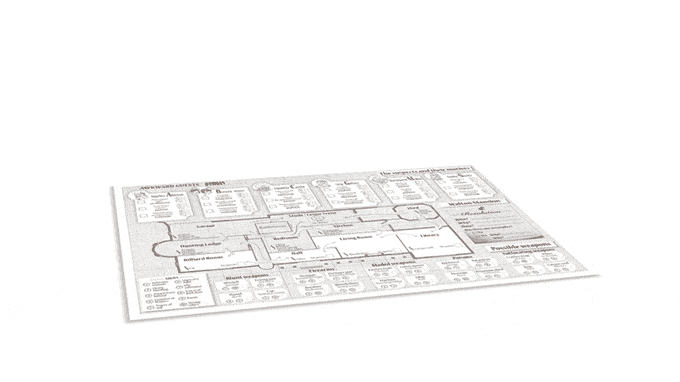 How to play AWKWARD GUESTS?
AWKWARD GUESTS' mechanics are quite simple, check them out:
A game of AWKWARD GUESTS is very fluid and intense. There is no downtime for the players, as they actively participate at all times. Even during opponents' turns, non-active players will need to request or provide information.
As the investigators uncover — little by little — what happened at the Walton Mansion, their interest and engagement will increase. This builds up expectation and excitement until the grand finale is reached and the mystery is solved.
Don't lose track of the AWKWARD GUESTS™...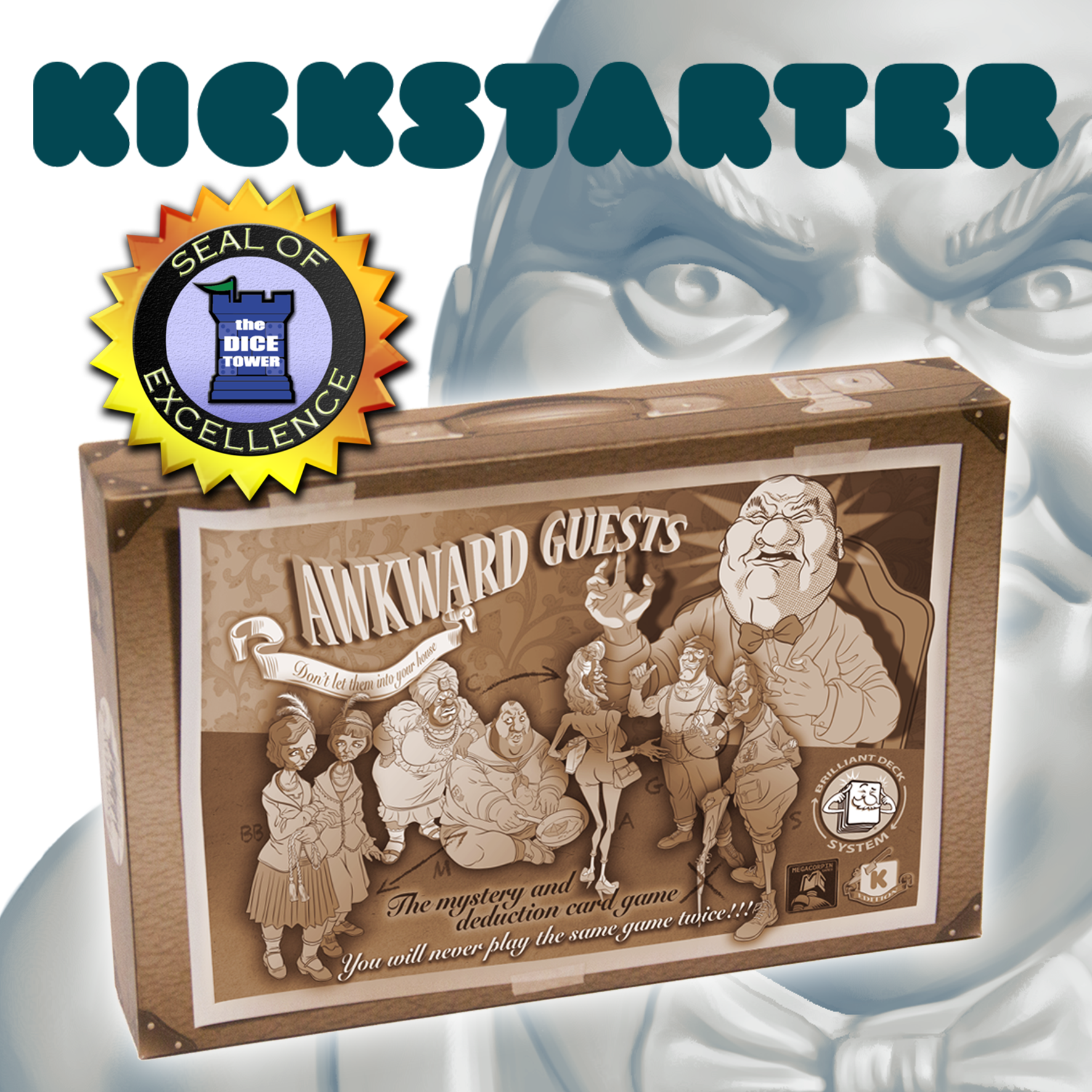 JOIN THE INVESTIGATION!