The Game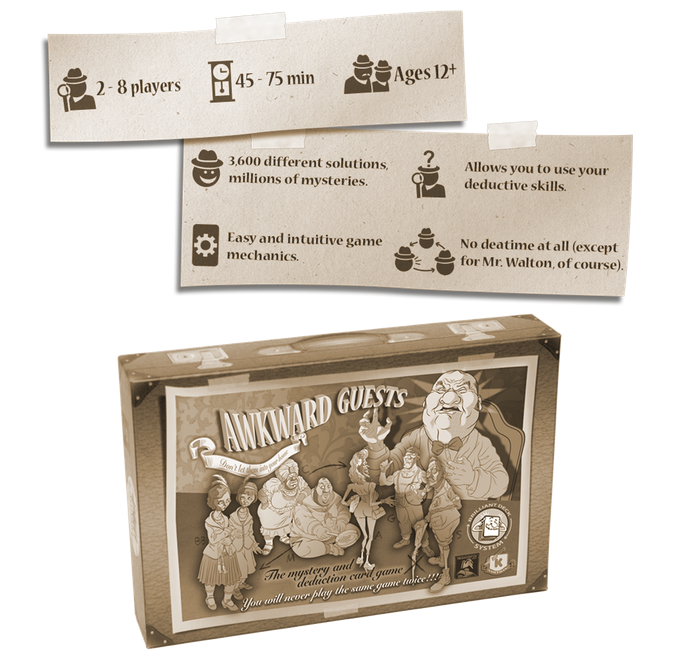 Why is AWKWARD GUESTS different?
Each AWKWARD GUESTS' card contains a piece of information that can help you to resolve Mr. Walton's murder: statements of the suspects, alibis, police reports, forensic findings and much more.

The game set up is what makes AWKWARD GUESTS different. Each play is pregenerated and it is defined by a set of cards that are taken among those that the game is comprised of, without looking to their faces. None of the players will know any information about the crime before the game begins! So all of them play as investigators!
According to this set up method, the information in every single card of the built deck is fully consistent with the rest of it. The information contained in the cards of the built deck explains the mystery in a unique way, and beyond any doubt, who killed Mr. Walton, why that person did that and which weapon he or she used.
For example: if in a certain play one suspect is innocent, the set up "takes care" of including cards to dismiss all his or her motives to kill Mr. Walton.
This set up method created by Megacorpin Games has been called "Brilliant Deck System".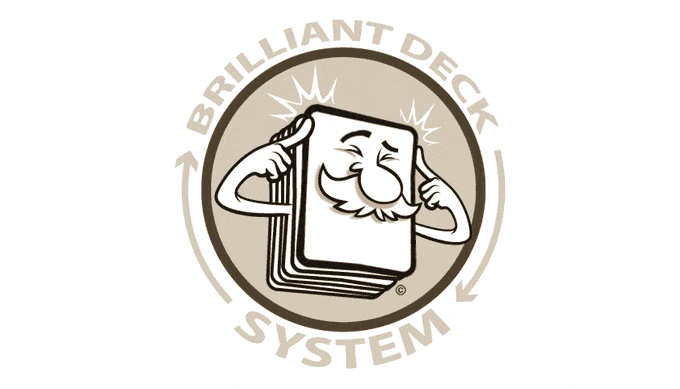 Consequently, to find out the murderer, his or her motive and the crime weapon, it is not enough to cross options out but you will have to draw conclusions from the information given by the cards you see during the game.
Another example: you can conclude that a suspect is innocent if the police dismiss all his or her motives, but also if he or she couldn't reach the crime scene (and there are even more ways!).
Is it difficult to play AWKWARD GUESTS?
No, it isn't at all. AWKWARD GUESTS doesn't require complex logic because the deductive reasonings used are simple, intuitive and accessible for all.
Once again, let's see it with an example: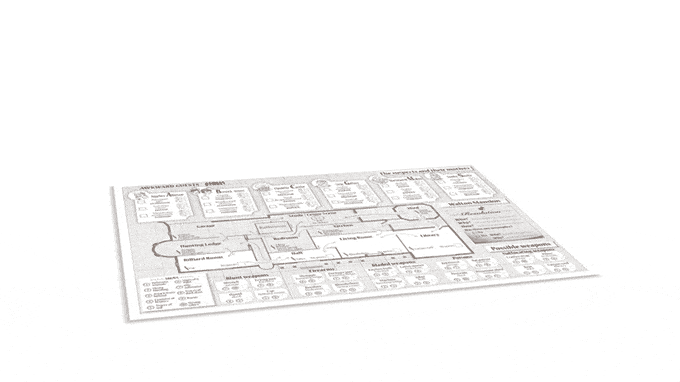 In addition, AWKWARD GUESTS' mysteries are classifien into 5 levels of difficulty on a scale from "Initiation" to "Very Hard". So players will always find a game suitable for them.
How many games are included in AWKWARD GUESTS?
AWKWARD GUESTS' rulebook includes a set of 30 different mysteries. But, it doesn't end there. In this very webpage (over here), we will upload periodically many more. Investigation will never end for you!.
How is AWKWARD GUESTS played?
AWKWARD GUESTS' mechanichs are quite simple. We are getting ready a video to show you. It will be upload here soon.
AWKWARD GUESTS' games are very fluid and intense. There isn't downtime for the players as they are participating in every single moment, even during the other's turn, asking for or providing information to exchange.
As the investigators discover little by little what happened in the Walton Mansion, the interest increases during the game until the grand finale of the resolution is reached.
You will find AWKWARD GUESTS' rulebook in the link below. If you have any question or there is something not explained properly, don't hesitate to contact us here and tell about it. We will really appreciate your colaboration!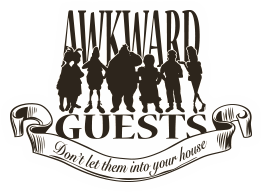 Download AWKWARD GUEST™ provisional rulebook